Volvo and Chinese automaker Geely partner on electric vehicle technology companies
; Date: August 4, 2017

Tags: Electric Cars »»»» Volvo Cars »»»» Geely

Volvo Cars and Geely Holding are announcing two joint ventures to rapidly develop next generation electrified vehicle technology. GV Automobile Technology will be 50/50 owned, with operations in China and Gothenburg Sweden. The LYNK car line will be manufactured by LYNK & CO, a newly formed JV between Volvo and Geely.

According to
Reuters, they'll be sharing engine technology as well, and that Geely purchased Volvo from Ford seven years ago.
This is not about Volvo switching to an electric-only strategy.
In July, the company said it would fully electrify its model line by 2019. This announcement with Geely obviously sets Volvo on that path. However the key word is ELECTRIFY, not ELECTRIC. That word lets an automaker weasel around, making it sound like they're moving to an electric drive train, when in reality an ELECTRIFIED drivetrain could be a gasoline engine with mild electric assist.
It is a big deal that Volvo's total model lineup will have some kind of electrification. It would have been far more significant if Volvo had announced an all-electric-only plan. Instead, they'll stick with plug-in hybrid or even more mild electrification for now. The company is pledging to launch five all-electric vehicles over the next few years.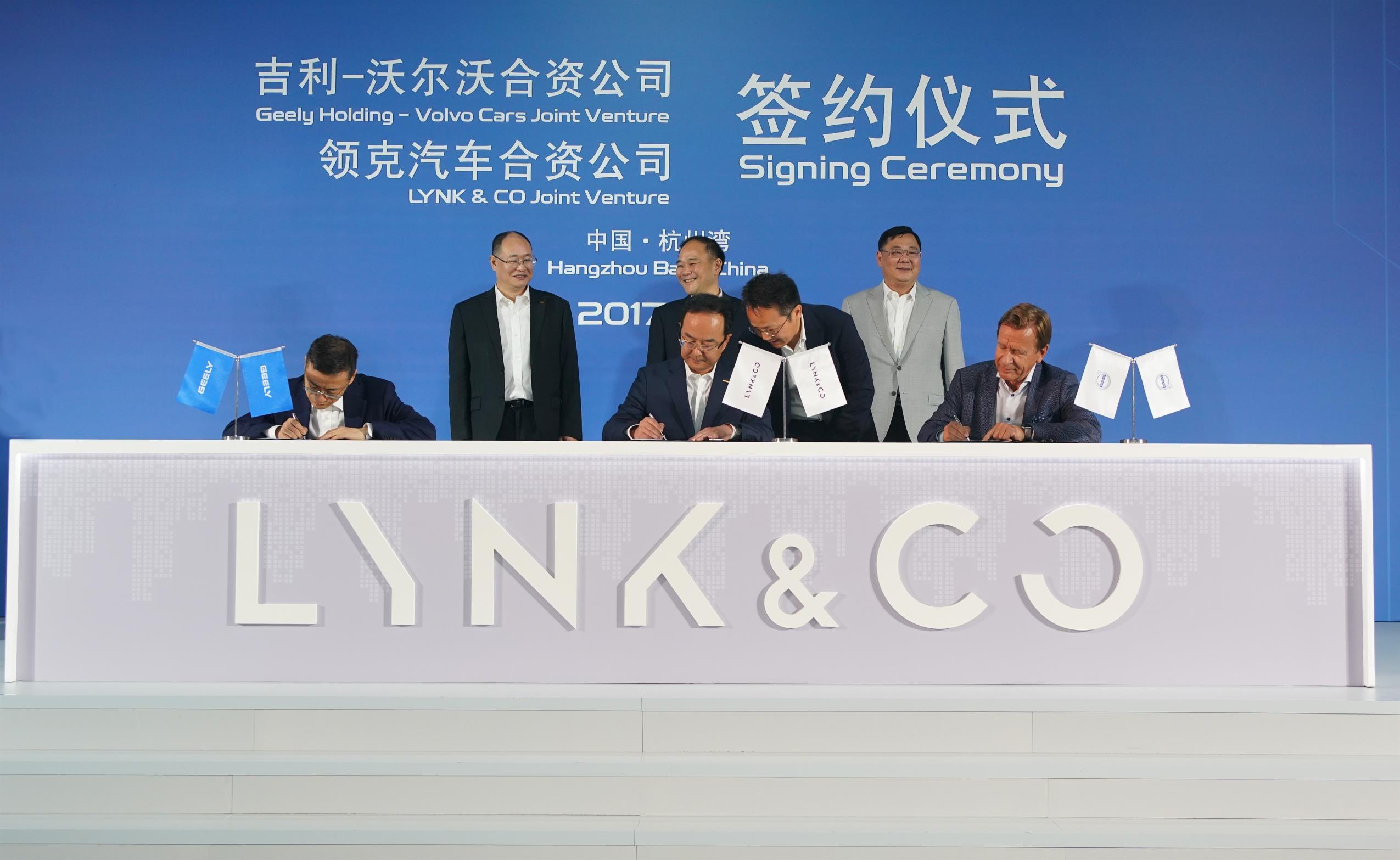 Volvo Cars, the premium car maker, and Geely Holding, the Chinese car group, Friday completed the formation of two new entities to share existing and future technology and provide the economies of scale that will allow them to more rapidly develop next generation electrified vehicle technology.
The agreements, signed at a ceremony in Ningbo, China, formalize the strategic priorities, management teams and targeted synergies for the collaboration within the group.
As a result, a new technology joint venture will be formed called GV Automobile Technology (Ningbo) Co. Ltd. It will be 50/50 owned by Volvo Cars and Geely Holding and headquartered in China with a subsidiary in Gothenburg, Sweden.
Lars Danielson, former SVP of Volvo Cars and CEO of Volvo Cars Asia Pacific, will become the Chairman of GV Technology, which will seek synergy benefits for Volvo Cars, Geely Auto and LYNK & CO through two units controlling technology access as well as procurement.
A separate LYNK & CO company, fully responsible for the LYNK & CO car line, will also be formed, jointly owned by Volvo Cars, Geely Holding and Geely Auto, with a newly constituted board of directors.
An Cong Hui, President and CEO of Geely Auto, has been named Chairman of the Board of LYNK & CO and Håkan Samuelsson, President and CEO of Volvo Cars, will serve as board director alongside Daniel Li, Executive Vice President and CFO of Geely Holding and Feng Qing Feng, Group Vice President and CTO of Geely Auto.
"These joint ventures will create significant value for our automotive brands. We aim to deliver global economies of scale by facilitating closer cooperation between our brands on shared vehicle architectures, powertrain development and electrification, while offering synergies that will enable LYNK & CO to achieve its full potential," said Li Shufu, Chairman of Geely Holding.
Volvo Cars will hold 30 per cent of the shares in LYNK & CO, while Geely Auto will hold 50 per cent and Geely Holding 20 per cent of the new company. Volvo Cars' significant minority shareholding reflects Volvo Cars' support to the LYNK & CO brand both now and in the future.
Volvo Cars and Geely already share technology, most notably the Compact Modular Architecture (CMA), which is being used by Volvo Cars for its soon-to-be-announced smaller range of 40 series cars and by LYNK & CO.
"We look forward to expanding our cooperation with LYNK & CO. It will be beneficial for both companies", said Håkan Samuelsson, President and Chief Executive of Volvo Cars.
The formation of the LYNK & CO company is expected to be finalized in September and is subject to relevant corporate and authority approvals.
Volvo Car Group in 2016
For the 2016 financial year, Volvo Car Group recorded an operating profit of 11,014 MSEK (6,620 MSEK in 2015). Revenue over the period amounted to 180,672 MSEK (164,043 MSEK). For the full year 2016, global sales reached a record 534,332 cars, an increase of 6.2 per cent versus 2015. The record sales and operating profit cleared the way for Volvo Car Group to continue investing in its global transformation plan.
About Volvo Car Group
Volvo has been in operation since 1927. Today, Volvo Cars is one of the most well-known and respected car brands in the world with sales of 534,332 cars in 2016 in about 100 countries. Volvo Cars has been under the ownership of the Zhejiang Geely Holding (Geely Holding) of China since 2010. It formed part of the Swedish Volvo Group until 1999, when the company was bought by Ford Motor Company of the US. In 2010, Volvo Cars was acquired by Geely Holding.
As of December 2016, Volvo Cars had over 31,000 employees worldwide. Volvo Cars head office, product development, marketing and administration functions are mainly located in Gothenburg, Sweden. Volvo Cars head office for China is located in Shanghai. The company's main car production plants are located in Gothenburg (Sweden), Ghent (Belgium), Chengdu and Daqing (China), while engines are manufactured in Skövde (Sweden) and Zhangjiakou (China) and body components in Olofström (Sweden).
Volvo Cars Strong Commitment To Electrification
The time for electrification has come. Volvo Cars is taking a bold step forward in moving its entire portfolio of vehicles into electrification, Between 2019 and 2021, Volvo Car Group will launch five pure electric models.
AutoComplete: Volvo goes all-in on electrification in 2019
What Does Volvo's Plan To Electrify Its Fleet From 2019 Onwards Really Mean?
Last week, Swedish automaker Volvo announced that it would electrify its entire fleet from 2019 onwards, retiring internal combustion engine only vehicles and offering customers a choice of electric, plug-in hybrid or hybrid drivetrains only. If it manages to stick with its plan, Volvo will be the first mainstream automaker in the world to electrify its entire fleet. But what does it mean for the future of the brand? Why is Volvo electrifying its fleet now? And what does it mean for the rest of the automotive industry?