Jaguar I-PACE sets production electric car lap record at Laguna Seca, to appear at Concours d'Elegance
; Date: August 23, 2018

Tags: Jaguar »»»» Electric Racing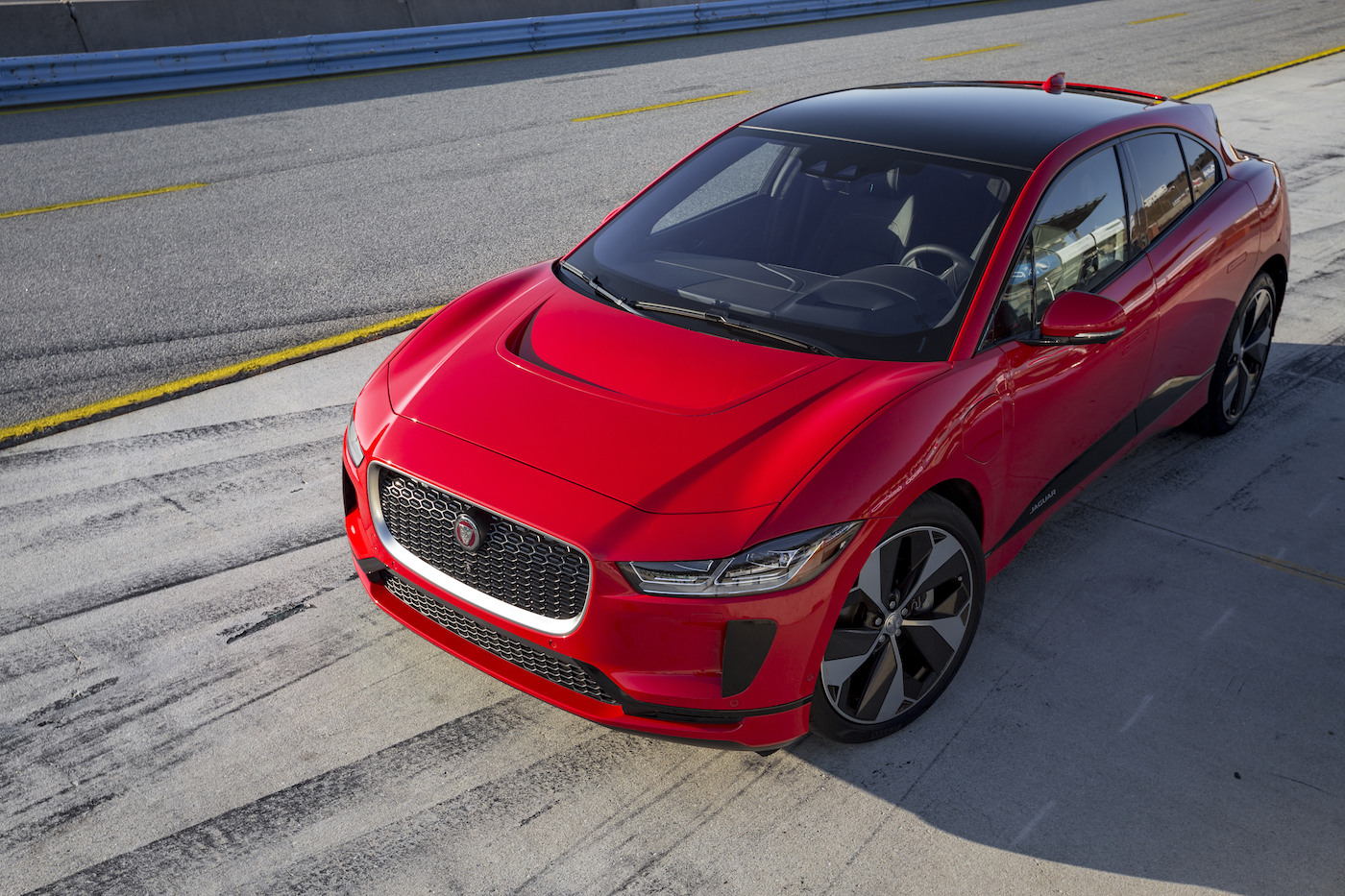 JAGUAR I-PACE SETS "SHOWROOM STOCK" PRODUCTION EV RECORD LAP TIME AT WEATHERTECH RACEWAY LAGUNA SECA AHEAD OF ROLEX MONTEREY MOTORSPORTS REUNION
Piloted by professional racing driver Randy Pobst, the new 2019 Jaguar I-PACE HSE First Edition lapped the 11-turn road course in 1:48.18, with no modifications whatsoever
Video of the lap is available here. More video will be available September 7 on the Motor Trend App and Motor Trend YouTube channel
The Jaguar I-PACE and I-PACE eTROPHY race car will be displayed at the Rolex Monterey Motorsports Reunion and the Pebble Beach Concours d'Elegance, August 24 - 26
Deliveries of the Jaguar I-PACE begin later this year, priced from $69,5002 before government incentives
The all-electric Jaguar I-PACE performance crossover features a 90 kWh pouch-cell lithium-ion battery pack, dual permanent magnet motors generating a combined 394hp and 512lb. ft. of torque and is capable of accelerating from 0-60mph in 4.5 seconds1
The world's first all-electric production based international race series, The Jaguar I-PACE eTROPHY, begins in Season 5 of ABB FIA Formula E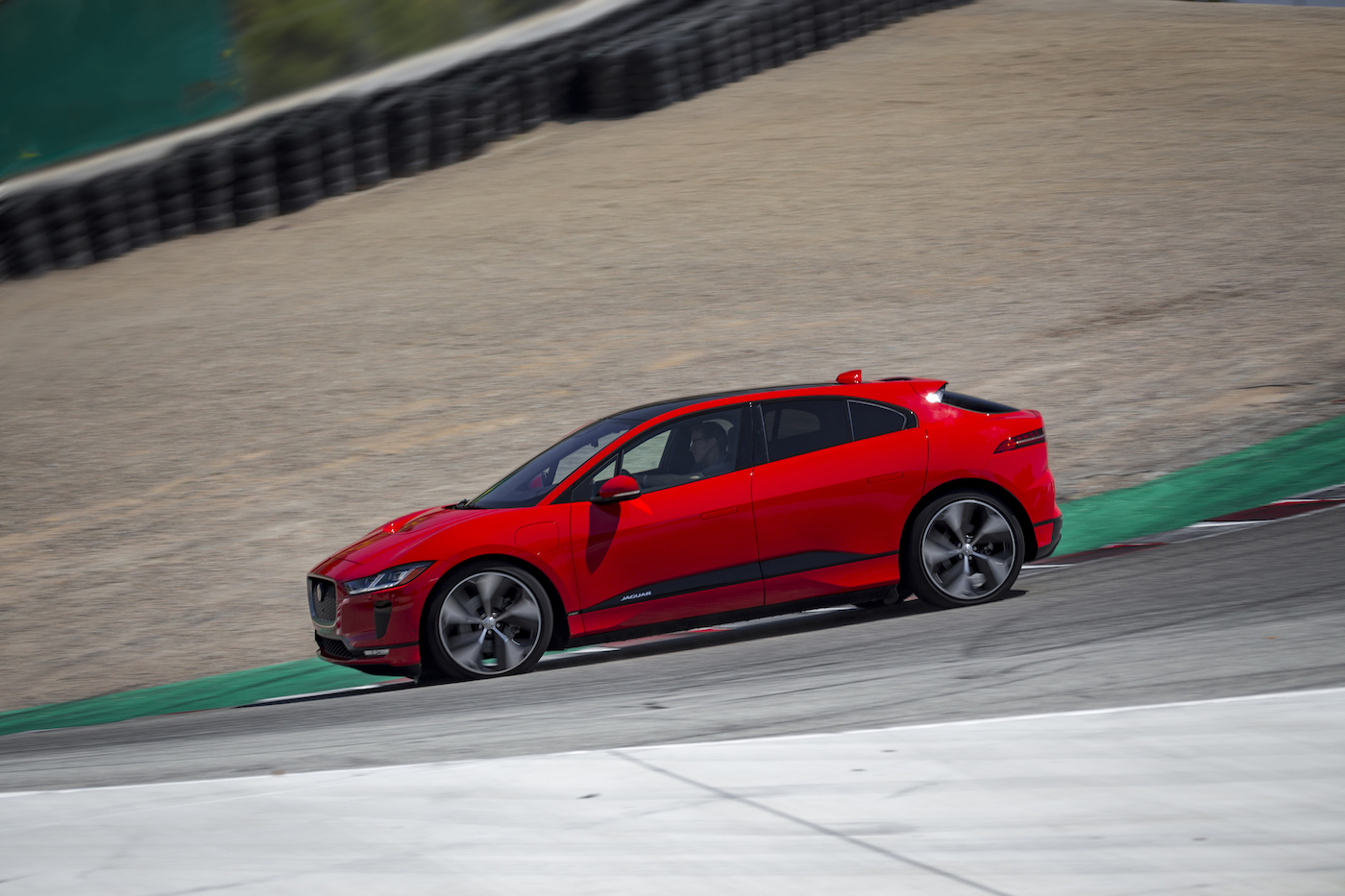 (Monterey, Calif.) August 22, 2018 -- Jaguar announced today it has set a production EV record lap time of 1:48.18 at WeatherTech Raceway Laguna Seca in its new, all-electric I-PACE performance crossover before the model goes on sale later this year and ahead of its display at the 2018 Rolex Monterey Motorsports Reunion and the Pebble Beach Concours d'Elegance.
Piloted by professional race car driver Randy Pobst, the Photon Red 2019 Jaguar I-PACE HSE First Edition tackled the 11-turn with no modifications whatsoever. Pobst set what Motor Trend believes is the benchmark for the fastest lap at WeatherTech Raceway Laguna Seca for a four-door stock production electric vehicle. Footage of Pobst's lap is available online here. More video will be available September 7 on the Motor Trend App and Motor Trend YouTube channel.
Priced from $69,5002 and featuring all-wheel drive4 as standard, the 2019 I-PACE will be available in three trim levels: S, SE and HSE – with an additional First Edition model inspired by the original design concept available for the first year only – when the vehicle arrives in US retailer showrooms later this year.
The new all-electric Jaguar I-PACE makes electric vehicle (EV) ownership more exciting, accessible and practical than ever thanks to its unique design and battery technology. A 90 kWh lithium-ion battery comprising of 432 pouch cells – chosen for their high energy density and superior thermal management – is able to achieve a 0-80 percent battery charge in approximately 40 minutes using 100 kW DC fast charging and 85 minutes using 50kW DC fast charging3. Alternatively, home charging with a 230V/32AMP AC wall box (7kW) will charge the I-PACE from zero to 80 percent in just over ten hours, making it ideal for overnight charging3.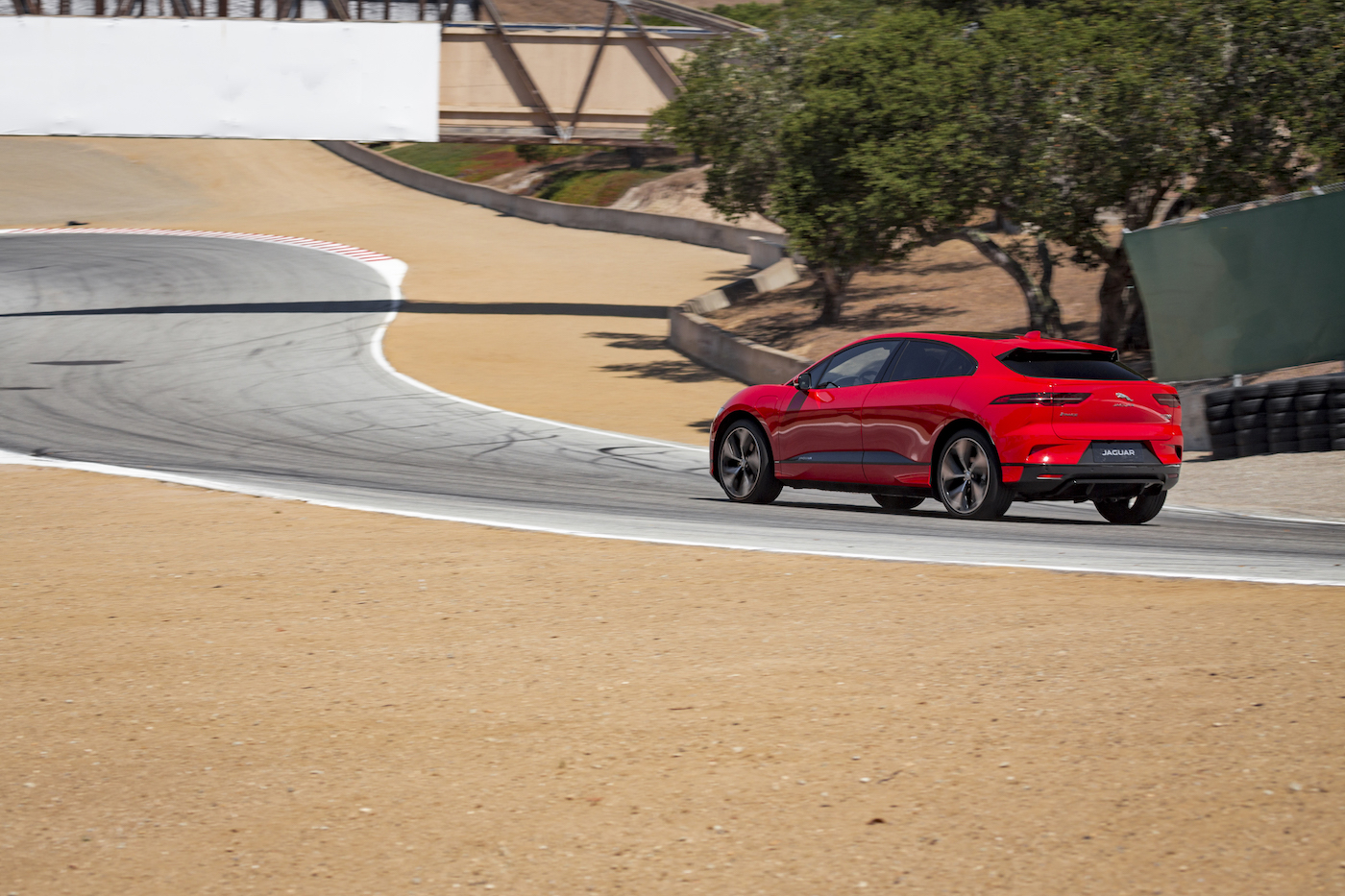 Conceived as a high-performance crossover from the outset, the I-PACE delivers engaging driving dynamics, everyday usability and comfort, with a unique balance of ride, refinement and control. Jaguar has placed the battery as low as possible between the axles, providing close to optimal 50:50 weight distribution and a low center of gravity optimizing composure and reducing body roll.
Advanced double wishbone front and Integral Link rear suspension deliver both incredible ride comfort and the lateral stiffness needed during dynamic driving, ensuring excellent handling, grip and steering responses. The compact and lightweight suspension design features aluminum suspension links and knuckles to reduce weight, while maximizing interior space.
The I-PACE also enables the driver to select either high or low levels of regenerative braking to assist in improving efficiency and vehicle range. When high regenerative braking mode is selected the driver can experience single-pedal driving in certain conditions as the car decelerates when lifting off the accelerator; helping to reduce reliance on the brake pedal when slowing down4. In fact, a maximum regenerative braking force of up to 0.4G is achievable in this mode.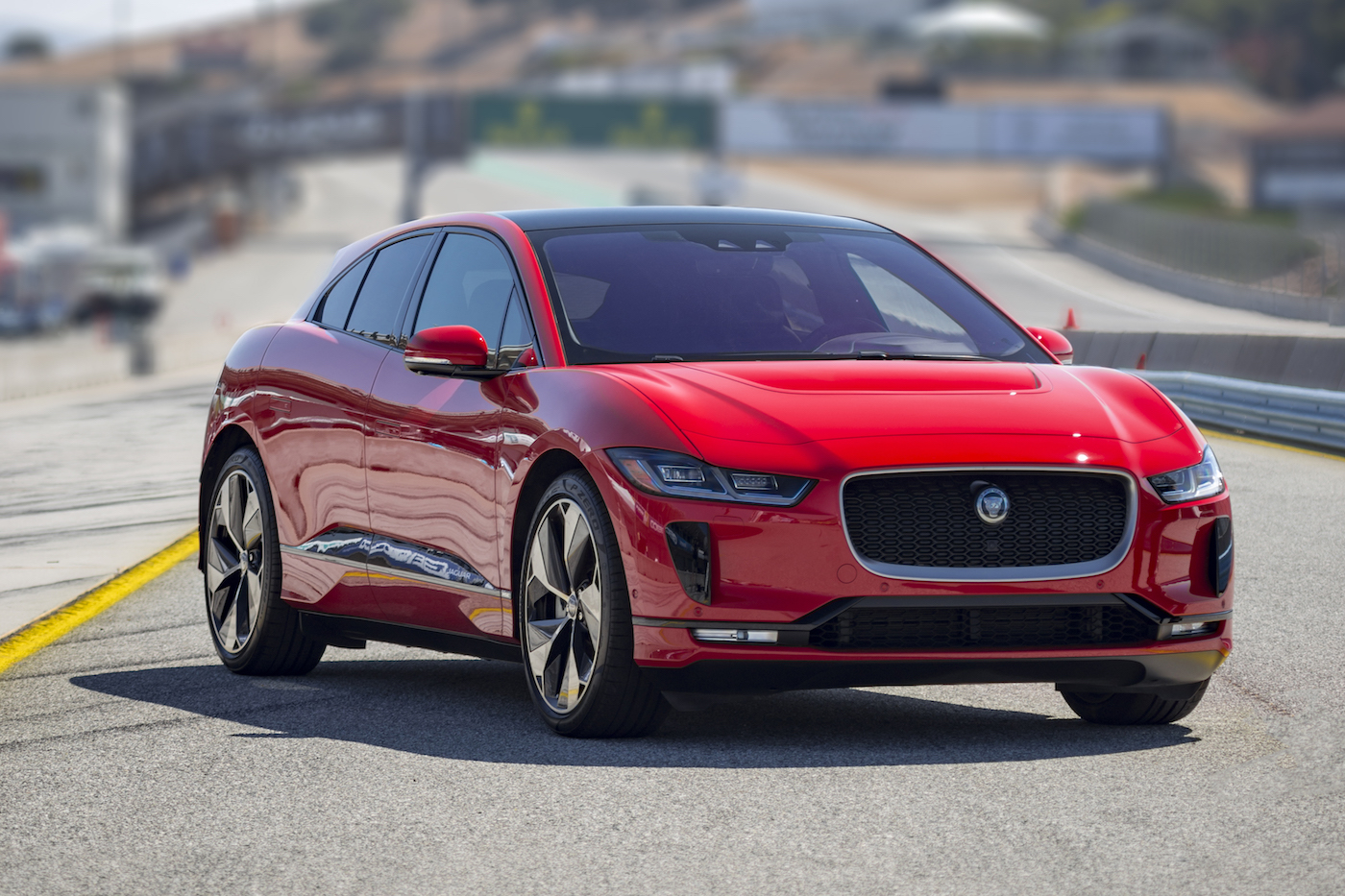 In addition to the sporting DNA customers have come to expect from a Jaguar, each new I-PACE sold in the U.S. comes with the added peace of mind of Jaguar EliteCare, a best-in-class ownership package. Jaguar EliteCare5 includes:
5 year / 60,000 mile new vehicle limited warranty
5 year / 60,000 mile complimentary scheduled maintenance
5 year / 60,000 mile 24/7 roadside assistance
5 year / unlimited mile Jaguar InControl® Remote and Protect™
8 year / 100,000 mile battery warranty; up to 70 percent state of health
The Jaguar I-PACE arrives at US retailers later this year, with the first deliveries in late 2018. For complete details about the I-PACE and Jaguar EliteCare coverage, please visit JaguarUSA.com, call (855) JAGUAR-USA / (855) 524-8278 or visit your local Jaguar Retailer.
JAGUAR I-PACE eTROPHY
After becoming the first premium manufacturer to enter the ABB FIA Formula E Championship in 2016 with its I-TYPE 1 open wheel racecar, Jaguar announced the creation of the world's first production battery electric vehicle race series – the Jaguar I-PACE eTROPHY Championship. The championship supports the launch of the I-PACE and reinforces Jaguar Land Rover's commitment to electrification: from 2020 all new model lines will be electrified, with either battery electric, plug-in hybrid or mild hybrid options.
Just a few months after news of the championship broke at the 2017 Paris Motor Show, Jaguar announced Rahal Letterman Lanigan Racing (RLL) as the first team to sign on to the series, campaigning two cars. Bringing decades of experience to the series, Bobby Rahal and the RLL team moved quickly to confirm their first season driver line-up.
Veteran sports car and open-wheel racing driver Katherine Legge was confirmed as the team's first Jaguar I-PACE eTROPHY pilot during the final rounds of the 2017/18 Formula E Championship held in New York City in July. A native of the UK, Legge currently competes in the IMSA GTD class; her resume includes experience in Formula 3, Formula Renault, a Formula One test, Champ Car, Indy car, A1GP, DTM, and the first season of the Formula E championship. Additional information on Legge's announcement with RLL can be found here.
Earlier this week it was announced that Legge would be joined by Bryan Sellers in RLL's second car. American sports car racer Bryan Sellers also currently competes in IMSA, behind the wheel of a Lamborghini Huracán GT3. Sellers' resume includes drives in the American Le Mans Series, Rolex Sports Car, Skip Barber Formula Dodge and winning the USF2000 National Championship in 2002. Additional information on Sellers' announcement with RLL can be found here.
Guests to both the 2018 Rolex Monterey Motorsports Reunion and the 2018 Pebble Beach Concours d'Elegance will be among the first to see the Jaguar I-PACE eTROPHY racecar in person. Finished in RLL race livery, the racecar will be displayed Friday and Saturday at the Jaguar pit garages at WeatherTech Raceway Laguna Seca, and Sunday on the Concept Lawn of the Pebble Beach Concours d'Elegance.
Up to 20 identical racecars will take to the grid from the 2018/19 ABB FIA Formula E season onwards. The Jaguar I-PACE eTROPHY races will take place before the main Formula E race on the same street circuits, in some of the most iconic cities in the world. The series offers teams the chance to showcase driving talent and electric performance on the world stage in zero-emissions motorsport.
Jaguar Racing is offering complete 'Arrive and Drive' packages in the series that, among other things, include professional technical support, global logistics for vehicles, spare parts and equipment, all consumables and marketing assistance.
Designed, engineered and built by Jaguar Land Rover Special Vehicle Operations, the all-electric Jaguar I-PACE eTROPHY racecar is powered by the same battery as the I-PACE production car and modifies the body-in-white with a purpose-built racing interior stripped of unnecessary weight, finished with the latest FIA-approved safety components.
The 90 kWh battery pack found in both the production- and race-spec vehicles power dual permanent magnet motors mounted front and rear which, when combined, deliver 394hp and 516lb. ft. of torque; propelling the cars from 0-60mph in 4.5 seconds1.
For more information about the Jaguar I-PACE eTROPHY Championship please visit:
Jaguar.com/Electrification/I-PACE-e-TROPHY or follow @JaguarRacing
#
(1) Always follow local speed limits.
(2) All prices shown are Manufacturer's Suggested Retail Price. Excludes $995 destination/handling charge, tax, title, license, and retailer fees, all due at signing, and optional equipment. Retailer price, terms and vehicle availability may vary. See your local authorized Jaguar Retailer for details.
(3) Figures for charging are Manufacturer's estimates based on best information available at time of publication. Charging time will vary by market, power supply and charging solution. Please refer to
www.jaguarusa.com for more information.
(4) These features are not a substitute for driving safely with due care and attention and will not function under all circumstances, speeds, weather and road conditions, etc. Driver should not assume that these systems will correct errors of judgment in driving. Please consult the owner's manual or your local authorized Jaguar Retailer for more details
(5) Class is cars sold by luxury automobile brands and claim is based on total package of New Vehicle Limited Warranty, Complimentary Scheduled Maintenance, 24-Hour Roadside Assistance, and Jaguar InControl® Remote & Protect™. For complete details regarding Jaguar EliteCare coverage, please visit JAGUARUSA.COM, call (855) JAGUAR-USA / (855) 524-8278 or visit your local Jaguar Retailer.
About Jaguar
Jaguar is a premier manufacturer of luxury sedans, sports cars and SUVs offering unparalleled design with tremendous performance. The company's vision throughout its storied 80 year history has been simple: To produce beautiful, fast cars that are desired the world over. Jaguar strives to provide a world class ownership experience to every owner. Today's Jaguar lineup consists of the Jaguar XE and XF sports sedans, the XJ full-size luxury sedan, the two-seat F-TYPE sports car and a line of performance SUVs, the E-PACE, F-PACE and I-PACE. Jaguar designs, engineers and manufactures exclusively in the United Kingdom, at the Castle Bromwich and Solihull manufacturing plants in the British Midlands. Jaguar is fully engaged with sustainability initiatives and social concerns with continuous involvement in environmental and community programs. For more information, visit the official Jaguar website at www.jaguarusa.com.
About Jaguar Racing
Jaguar returned to racing in October 2016, becoming the first premium manufacturer to join the all-electric ABB FIA Formula E Championship street racing series. Jaguar's Formula E program will create tangible R&D benefits for the electrification of future Jaguar and Land Rover road cars. Jaguar has now created the world's first production battery electric vehicle race series, the Jaguar I-PACE eTROPHY, which will be the official support series for the ABB FIA Formula E Championship, starting in Season Five. The series supports the launch of the Jaguar I-PACE, Jaguar's first battery electric vehicle, and reinforces Jaguar Land Rover's future electrification strategy, commitment to electric street racing and 'Race to Innovate' mission.
About Jaguar Land Rover
Jaguar Land Rover is the UK's largest automotive manufacturer, built around two iconic British car brands: Land Rover, the world's leading manufacturer of premium all-wheel-drive vehicles; and Jaguar, one of the world's premier luxury sports saloon and sports car marques.
We employ more than 43,000 people globally and support around 240,000 more through our dealerships, suppliers and local businesses. Manufacturing is centered in the UK, with additional plants in China, Brazil, Austria and Slovakia.
At Jaguar Land Rover, we are driven by a desire to deliver class-leading vehicles, which will provide experiences our customers will love, for life. Our products are in demand around the globe. In 2017 Jaguar Land Rover sold 621,109 vehicles in 130 countries, with more than 80 per cent of our vehicles being sold abroad.
Our innovation is continuous: we will spend more than £4 billion in the coming year on new product creation and capital expenditure.
From 2020 all new Jaguar Land Rover vehicles will be electrified, giving our customers even more choice. We will introduce a portfolio of electrified products across our model range, embracing fully electric, plug-in hybrid and mild hybrid vehicles as well as continuing to offer ultra-clean petrol and diesel engines.