Maker of worlds best-selling electric vehicle announces pricing for the new longer-range Nissan Leaf Plus
; Date: March 1, 2019

Tags: Nissan »»»» Nissan Leaf »»»» Electric Vehicles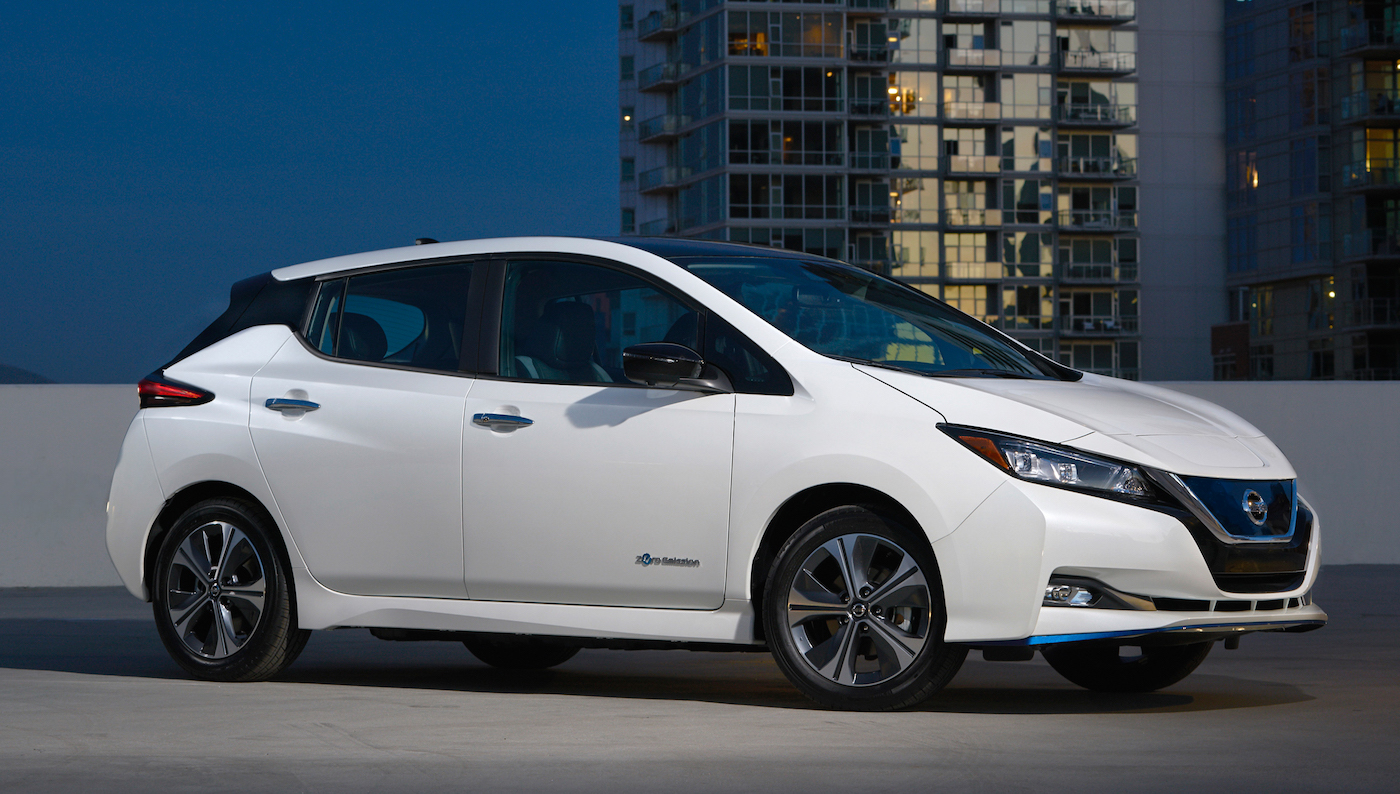 LEAF S PLUS starting price is $36,5501 with up to 226 miles of range
The Nissan LEAF, with the 40kWh battery and up to 150 miles of range, is available at a starting price of under $30,000
Nissan continues to offer 8-year/100,000 mile warranty on lithium-ion battery pack which also includes battery capacity loss protection for the customer
NASHVILLE, Tenn. – The new Nissan LEAF PLUS pricing starts at $36,550 and goes on sale at Nissan retailers nationwide this month.
The "PLUS" designation refers to the increased energy density of the model's 62 kWh battery pack and the higher 214-horsepower output of its powertrain versus the 40 kWh option.
The new Nissan LEAF S PLUS powertrain adds to the car's range by approximately 50 percent with an EPA range of up to 226 miles2 (versus the standard 2019 Nissan LEAF 150 mile range3), ensuring that there's a Nissan LEAF to meet the driving needs of a wider range of customers.
The new powertrain also allows faster acceleration when driving at high speeds. Accelerating nearly 13 percent quicker than the standard Nissan LEAF. In addition, thanks to a standard new 100kW capacity quick charging system, the 2019 Nissan LEAF PLUS can charge more efficiently.
"With the addition of LEAF PLUS, the Nissan LEAF is now available with two battery options and a choice of six trim levels – each featuring the many advanced technologies offered under the banner of Nissan Intelligent Mobility," said Brian Marango, director, EV Sales and Marketing, Nissan North America, Inc.
Manufacturer's Suggested Retail Prices (MSRP) for the 2019 Nissan LEAF PLUS are:
| Model | price |
| --- | --- |
| LEAF S PLUS | $36,550 USD |
| LEAF SV PLUS | $38,510 USD |
| LEAF SL PLUS | $42,550 USD |
| Destination and Handling $895 USD
The Nissan LEAF embodies Nissan Intelligent Mobility, the company's vision for changing how cars are powered, driven and integrated into society. The three key aspects of Nissan Intelligent Mobility, exemplified by the 2019 Nissan LEAF, are Nissan Intelligent Driving, Nissan Intelligent Power and Nissan Intelligent Integration.
Offering a dynamic design and advanced technologies such as ProPILOT Assist and ePedal, the LEAF PLUS also features standard Rear Door Alert (RDA)6, a system that can help remind customers of items that may be forgotten in the rear seat.
There are also subtle clues to the LEAF's PLUS designation, including a revised front fascia with blue highlights and an e+ logo plate on the underside of the charge port lid. Also included is rear trim level badges designating the grade levels as S PLUS, SV PLUS and SL PLUS.
Boasting a spacious, highly functional interior with a quality, high-tech feel, the combination of premium materials throughout the cabin befits a luxury vehicle. Vibrant blue contrast stitching for the steering wheel, seats and instrument panel accentuate the car as a Nissan electric vehicle.
The cabin's interior dimensions comfortably accommodate five people, while the rear cargo area is designed to provide ample luggage space, offering 23.6 cubic feet of available stowage. It also allows for easy charging cable storage.
Every 2019 Nissan LEAF PLUS is offered with a limited warranty4 covering defects in materials or workmanship for eight years or 100,000 miles, whichever comes first, for the lithium-ion battery pack. Nissan also provides a limited warranty against battery capacity loss below nine bars of capacity as shown on the vehicle's battery capacity level gauge for the first eight years or 100,000 miles for all models.
The 2019 Nissan LEAF PLUS is offered in three well-equipped grade levels: S PLUS, SV PLUS and SL PLUS. The 2019 Nissan LEAF is also available in three 40 kWh grades – S, SV and SL.
The Nissan LEAF is the best-selling electric vehicle in the world5 with more than 390,000 global sales and over 130,000 U.S. sales since its 2010 debut.
For more information on the 2019 LEAF and the complete Nissan vehicle lineup, please visit
NissanNews.com.
About Nissan North America
In North America, Nissan's operations include automotive styling, engineering, consumer and corporate financing, sales and marketing, distribution and manufacturing. Nissan is dedicated to improving the environment under the Nissan Green Program and has been recognized annually by the U.S Environmental Protection Agency as an ENERGY STAR® Partner of the Year since 2010. More information on Nissan in North America and the complete line of Nissan and Infiniti vehicles can be found online at
www.NissanUSA.com and www.InfinitiUSA.com, or visit the U.S. media sites
NissanNews.com and InfinitiNews.com.
About Nissan Motor Co., Ltd.
Nissan is a global full-line vehicle manufacturer that sells more than 60 models under the Nissan, INFINITI and Datsun brands. In fiscal year 2017, the company sold 5.77 million vehicles globally, generating revenue of 11.9 trillion yen. On April 1, 2017, the company embarked on Nissan M.O.V.E. to 2022, a six-year plan targeting a 30% increase in annualized revenues to 16.5 trillion yen by the end of fiscal 2022, along with cumulative free cash flow of 2.5 trillion yen. As part of Nissan M.O.V.E. to 2022, the company plans to extend its leadership in electric vehicles, symbolized by the world's best-selling all-electric vehicle in history, the Nissan LEAF. Nissan's global headquarters in Yokohama, Japan, manages operations in six regions: Asia & Oceania; Africa, the Middle East & India; China; Europe; Latin America; and North America. Nissan has partnered with French manufacturer Renault since 1999 and acquired a 34% stake in Mitsubishi Motors in 2016. The Renault-Nissan-Mitsubishi alliance sold 10.76 million vehicles combined in calendar year 2018.