ABB powers e-mobility with launch of first 150-350 kW high power charger
; Date: October 3, 2017

Tags: ABB »»»» Electric Cars »»»» Electric Car Charging »»»» Fast Charging

Competition is coming to high speed DC fast charging. Tesla's primary advantage is a ubiquitous DC fast charging network running at 120 kiloWatts or more, with credible plans to increase the power levels. The problem is that Tesla's network is proprietary and works only for Tesla's cars. The other manufacturers use standardized charging protocols (CHAdeMO and CCS) but have been limited in the maximum charging rate. With this new charger, standards-based charging networks can now begin to offer a charging rate high enough to compete against Tesla.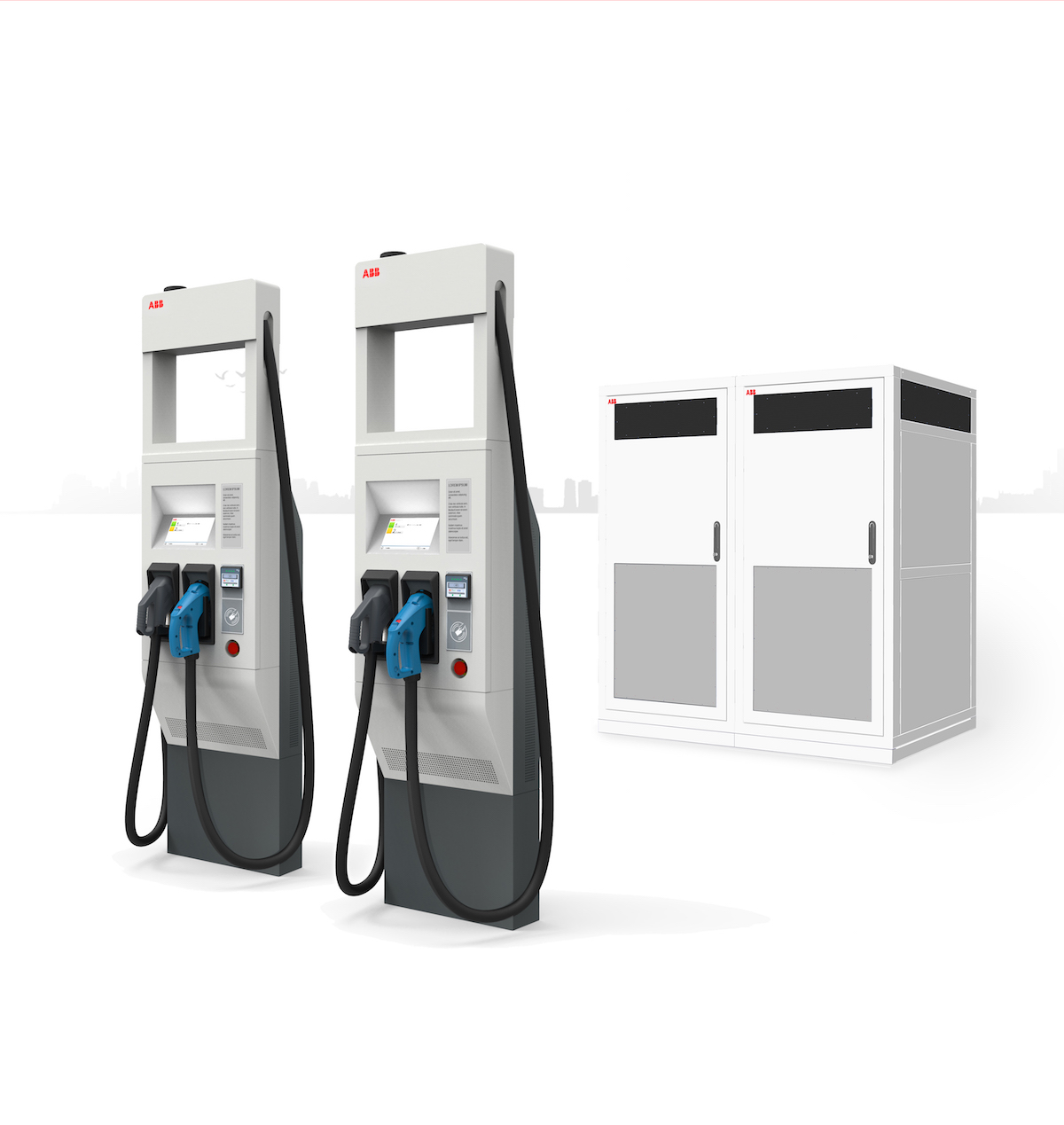 As it continues to roll out high impact Electric Vehicle charging solutions worldwide, pioneering technology provider ABB will launch its new Terra HP High Power Charge system at EVS30 in Stuttgart.
With the global number of electric vehicles on the road rising to 2 million in 2016*, the demand for powerful and energy efficient vehicle charging stations is ever increasing.
From Stand 43, Hall 1 at the Electric Vehicle Symposium and Exhibition (EVS30) in Stuttgart from 9-11 October, ABB will showcase its newest EV charging solution, the Terra HP, the first 150-350 kW product on the market.
Ideally suited for use at highway rest stops and petrol stations, Terra HP's ultra-high current has the capacity to charge both 400 V and 800 V cars at full power.
The 375 A output single power cabinet can charge a 400 V car at full 150 kW continuously. The addition of Dynamic DC power sharing technology, allows a two-power cabinet charging system to charge a couple of EVs simultaneously, with up to 350 kW and 500 A, while dynamically optimizing the available grid connection and the power delivery to the two vehicles.
Commenting on the launch Frank Mühlon, Head of ABB's Global Business for Electric Vehicle Charging, said: "We are committed to supporting the expansion of electric vehicle charging systems across the globe to drive cleaner environments. Creating innovative state-of-the-art and energy efficient solutions which are scalable to expand and flex with our customers' needs is at the heart of ABB's philosophy."
Additional power cabinets and charge posts can be added after installation, delivering a cost-effective and future-proof solution for expandable charge points that can grow as the EV base grows.
To further improve performance, Terra HP delivers the highest uptime due to redundancy on power and communication, and individually cooled charging cables. Having proven its paces in numerous commercial electric bus field installations, the power cabinet is also extremely reliable.
For charging operators, Terra HP provides the additional benefit of ABB AbilityTM Connected Services, which deliver enhanced functionality, including the ability to easily connect chargers to back offices, payment platforms or smart grids systems. More importantly, remote diagnostics, repair and over-the-air software updates, minimize downtime and keep running costs low.
Terra HP delivers a number of additional benefits for consumers, including an intuitive, easy to use touchscreen display and multiple payment options.
ABB has provided charging solutions as part of its drive to promote sustainable mobility since 2010 and has sold more than 6,000 cloud connected DC fast-chargers around the world for passenger cars and commercial vehicles.
Source: International Energy Agency's Global EV Outlook
ABB (ABBN: SIX Swiss Ex) is a pioneering technology leader in electrification products, robotics and motion, industrial automation and power grids, serving customers in utilities, industry and transport & infrastructure globally. Continuing more than a 125-year history of innovation, ABB today is writing the future of industrial digitalization and driving the Energy and Fourth Industrial Revolutions. ABB operates in
more than 100 countries with about 136,000 employees.
www.abb.com